Hotels & B&B's
CE, WRAS and GOST approved product. Optional version for ETL
We can offer advice on a full OPL

or back of house solutions to assist with keep control of your stock as well as saving money. Many of our leisure customers are seeing improvements in their laundry process and finishing and quality of items laundered by bringing their towel laundry in-house.
A renowned Manchester Airport hotel recently upgraded their laundry equipment to cope with their in-house laundry requirements, "Our new Primer LS62 commercial washing machine is a breath of fresh air, both processing and quality has been a huge improvement to the laundry room"
A local Best Western Hotel recently commented "Placing our second order within weeks is testimony in itself. However, one very positive benefit is we are getting a minimum of 30% reduction in cycle time per wash which is an unexpected major benefit. The machines are also considerably quieter than our others. Once again well done and many thanks."
Our team of industry experts are on hand offer support and advice on how you can save money and take back control of your laundry process.
"We needed a quality product at a competitive price, with a full care and breakdown package. MAG Supplied and installed the following week, highly recommended"
MAG Laundry Equipment is the sole distributor of Primer products throughout the UK, we offer our customer's exceptional machines at exceptional prices. We highly recommend the Primer brand which has been manufactured since 1922. The machines have an innovative design focusing on quality, performance and energy efficiency.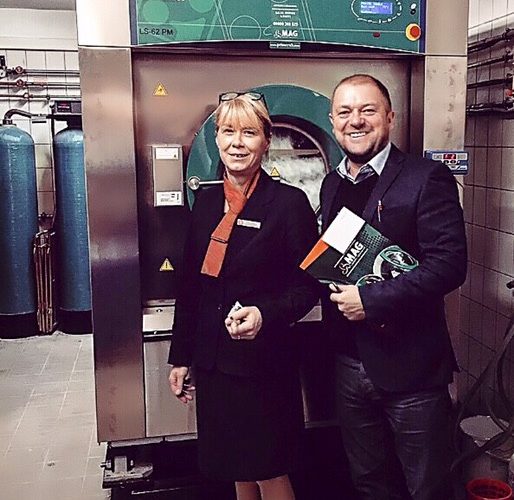 The Best Commercial Washing Machines
These

amazing commercial washing machines

from Primer in the LS range, including models 11, 14, 20, 28, 39, 50, 67  & 133kg, all offer an incredibly high spin rate at 1100rpm. Every one of these high-quality commercial washing machines are manufactured in

durable, long-lasting stainless steel

, from the body down to even the drum and the tub; this provides a better-quality material that other manufacturers, increased resistance to external agents which lengthens the washer life and prevents corrosion, not to mention that it gives it an elegant look that you don't get from anything but stainless steel.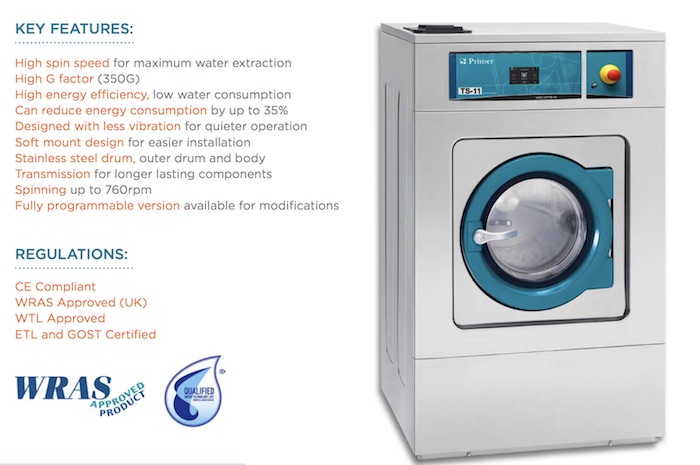 The Best Commercial Tumble Dryers
We present the most efficient dryer in the market with a variety of models and features, which offer up to 40% energy savings. Because investing in quality and efficiency means investing in the future. When the investment is shown by high-quality features like the stainless steel drum, reverse drum action, frequency inverter, double air flow axial/radial… the energy saving is immediate. Because all this means a very important decrease in drying time and results in important savings in the machine's running costs, this range becomes the perfect choice for the modern laundry sector.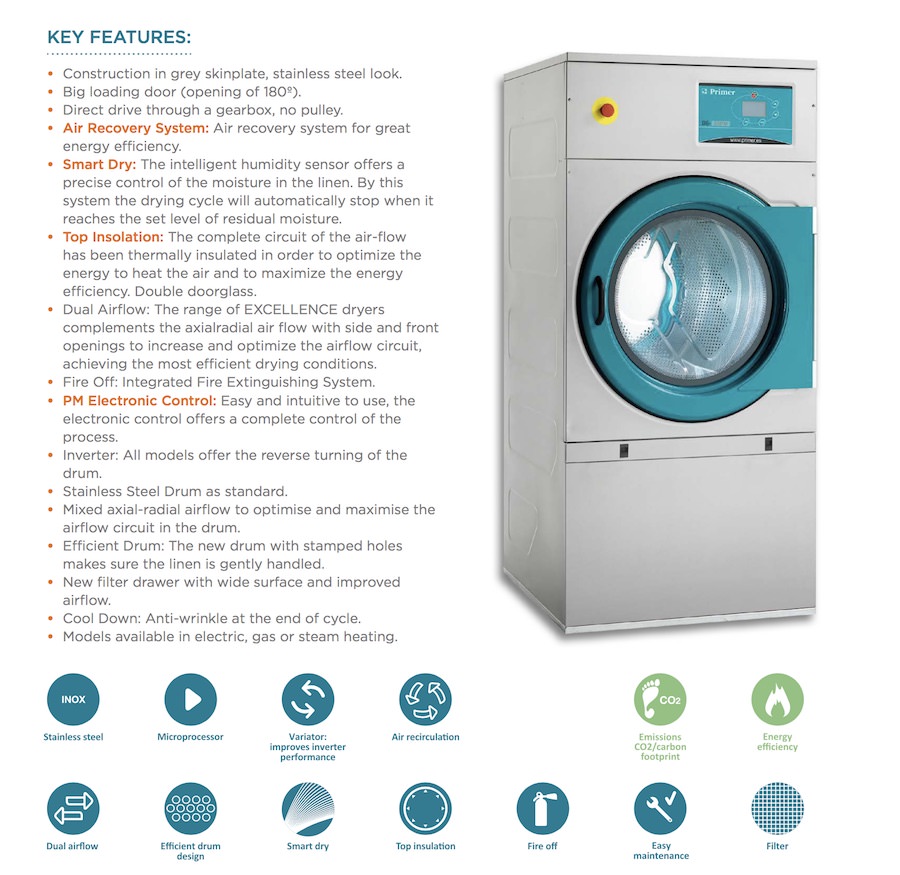 Purchase options to suit you
We offer leasing & rental options, which can be incredibly cost-efficient for businesses. Leasing commercial laundry equipment enables businesses to keep the cash in their bank, rather than having to stump up one large payment. In addition to this, the lease-to-buy scheme is 100% tax efficient if you are VAT-registered And the best benefit is that at the end of the lease payment term, your business owns all the equipment which in turn becomes an asset. Our lease plan is an unsecured form of borrowing and the only security required is the actual equipment. 
Free Quotation ☏ 0800 0288 525

More information & prices