When it comes to commercial laundry equipment we offer the most energy-efficient machines on the market, our customers have seen excellent results and

energy savings up to 60%

in some laundries
With that amount of saving up for grab, you will agree its got to be worth a chat with oursalest team, who are factory trained on the functionality and performance of every laundry product we offer. At M.A.G we believe in constant innovation in the design of our machines, to achieve significant energy and water savings, critical points in today's environmentally conscious world. Our mission is to satisfy all the needs of a professional laundry competitively, working in the UK market. As a team of professionals, we are in daily contact with our customers, applying our corporate values in all areas: Innovation, Experience, Dialogue, and Professionalism. Email us.
Improving Efficiency

Every Day
We have a technical and commercial network extending across the whole country, which allows us to meet the needs of our customers. With special care during and after the sale. We have an excellent team who provide personalized and immediate service, guaranteeing good advice with every inquiry.
We work with many different types of laundry services to help them plan out the best equipment and configuration for their needs.
We work with many different types of laundry services to help them plan out the best equipment and configuration for their needs. This can be anything from student accommodation, caravan parks, apartment blocks, launderettes, hair salons, hotels shared housing or stable yards. 
As they say "The proof of the pudding is in the eating!"
13 years ago we received an inquiry from a gentleman looking for advice on starting a laundry. Like most new startups we speak with budgets were to be considered for the project, and at the time they decided to purchase two small commercial washing machines and two tumble dryers to get the business started. Over the years we worked very closely with the owner Mr. Geoff Browne gradually upgrading the equipment as the laundry quickly developed. Today Impressed is one of the largest privately owned commercial laundry's in the UK processing over 5000kg of linen a day. Now that's teamwork!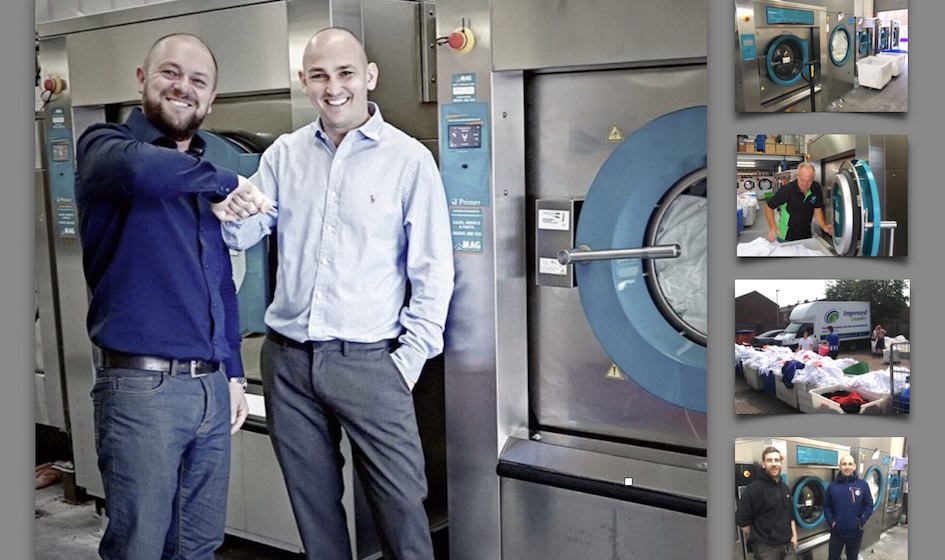 MAG Equipment Ltd is committed to long term relationships with all customers
large or small and will always strive to provide the best commercial laundry
equipment, service and support through ongoing investment and development
Purchase Options Buy, Rent or Lease 
MAG also offers a free planning and CAD drawings. Our experienced laundry designers can help with the layout of machines, help you plan utilities such as water and electricity and offer advice on the best products for your needs. Financing options are available across a two, three, four or five-year term. Tax relief Leasing business equipment is eligible for tax relief which can, therefore, reduce costs by around 20%. If a business had to take out a loan to pay for this equipment outright, this wouldn't be tax deductible, so there are definite financial benefits here. We treat every customer as an individual, and our dedicated team will find the best possible solution for any budget however large or small.
In addition to this, the lease-to-buy scheme is 100% tax efficient if you are VAT-registered And the best benefit is that at the end of the lease payment term, your business owns all the equipment which in turn becomes an asset. Our lease plan is an unsecured form of borrowing and the only security required is the actual equipment.