When it comes to commercial laundry equipment we offer the most energy-efficient machines on the market, our customers have seen excellent results and energy

savings up to 60%

in some laundries.
We believe in constant innovation in the design of our commercial products, to achieve significant energy and water savings, critical points in today's environmentally conscious world. We make it our responsibility to know you and your business regardless of size. Our trained staff will work closely with you to ensure that the solutions we provide are tailored to meet your unique needs. MAG is committed to your success and offers a personalized service. 
We are an exclusive UK distributor,

 that gives us a clear and distinct advantage when it comes to price.
We guarantee to beat any genuine like for like commercial laundry equipment quotation and in addition to this, we provide a

free 5-year service care plan

with ever machine we supply.
Improving efficiency

to over 4000 laundry machines in over 600 commercial laundries.
We have a technical and commercial network extending across the whole country, which allows us to meet the needs of our customers. With special care during and after the sale. We work with many different types of laundry services to help them plan out the best equipment and configuration for their needs. This can be anything from student accommodation, caravan parks, apartment blocks, launderettes, hair salons, hotels shared housing or stable yards. 
Network Ready?
Join our service network and connect your laundry equipment to one of the most advanced monitoring systems in the world, producing your business with critical performance reports and instant breakdown alerts subsequently reducing maintenance costs. 

Network Communication is now standard on all our industrial & commercial laundry products.
"We are

totally committed

to long-term relationships with all customers 
large or small and will always strive to provide the best commercial laundry
equipment, service, and support through ongoing investment and development"
 We'll be with you every step of the way.
13 years ago we received a telephone call from a gentleman looking for advice on starting a laundry. Like most new startups we speak with budgets were to be considered for the project, and at the time they decided to purchase two small commercial washing machines and two tumble dryers to get the business started. Over the years we worked very closely with the owner Mr. Geoff Browne gradually upgrading the equipment as the laundry quickly developed.
"Today

Impressed laundry

is one of the biggest privately owned laundries in the UK processing over 5000kg per day 7 days a week"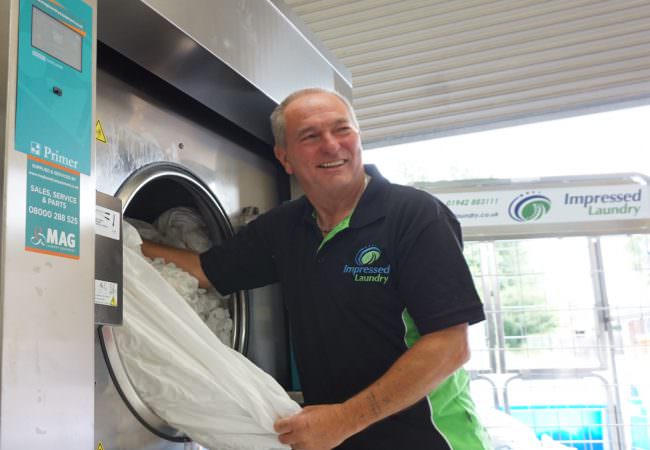 In addition to this, the lease-to-buy scheme is 100% tax efficient if you are VAT-registered And the best benefit is that at the end of the lease payment term, your business owns all the equipment which in turn becomes an asset. Our lease plan is an unsecured form of borrowing and the only security required is the actual equipment.