When it comes to commercial laundry equipment MAG offer the most energy-efficient machines on the market, our customers have seen excellent results and

energy

savings up to 60%

in some laundries. 
We believe in constant innovation in the design of our commercial products, to achieve significant energy and water savings, critical points in today's environmentally conscious world. We make it our responsibility to know you and your business regardless of size. Our fully trained laundry staff will work closely with you to ensure that the solutions we provide are tailored to meet your unique needs. MAG is committed to your success and offers a personalized service.
Buy Direct from the manufacturer.
Working in partnership with Onnera gives us a distinct advantage when it comes down to service and price. ONNERA GROUP  is one of the worlds largest laundry equipment manufacturers with laundry history dating back to 1922, now operating from 8 Manufacturing plants and over 1000 distribution points around the world,
MAG Laundry Equipment has helped to set up and upgrade thousands of on-premises laundry's. By listening to your requests and offering a free site survey MAG can find the best solution to meet the demands of your business and budget. We are totally committed to long-term relationships with all customers 
large or small and will always strive to provide the best commercial laundry 
equipment, service, and support through ongoing investment and development.
We'll make it our business

to fully understand your business!
13 years ago we received a telephone call from a gentleman looking for advice on starting a laundry business. Like most new startups we speak with, budgets and focus were to be considered for the project, and at the time he decided to purchase two small commercial washing machines and two tumble dryers to get the business started.
Over the years we worked extremely closely with the owner Mr Geoff Browne gradually upgrading the equipment as the laundry quickly expanded from high street shop to industrial premises.
Today Impressed is one of the largest commercial laundries in the UK processing over 500kg of linen a day.
Our investment in people has reaped enormous benefits as every team member has the ethos that MAG installed from the outset, namely, our customers are our future so take great care of them. No job is too big or small for MAG's design team who can offer free planning to help ensure all projects run swiftly and smoothly. Flexible payment options are available to suit each customer including purchase outright, lease and rental.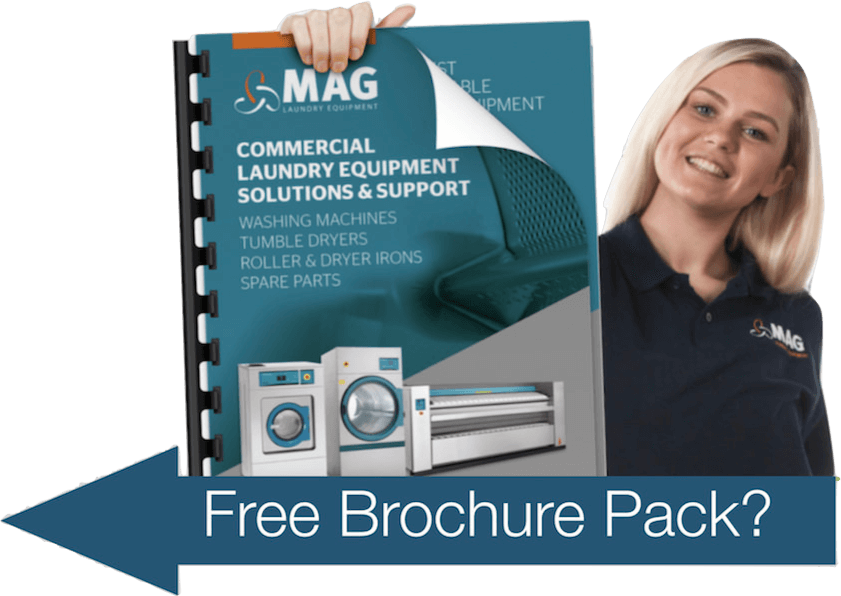 When ordering with MAG, you have the peace of mind that you will receive ongoing support thanks to our network of engineers across the UK which is backed-up with live telephone support 24/7/365 days a year.