When it comes to commercial laundry equipment, we offer the best in the world! manufactured by industry innovators with laundry experience dating back to 1922.
When it comes to service, we constantly exceed expectations while sustaining our reputation for innovation. We provide a highly professional yet personal approach in every situation through the ongoing development.
We offer commercial laundry equipment built to last, whilst also being able to deliver a reduction in utility costs, extend garment life and maximised productivity. By constantly improving the efficiency of our products, we have delivered energy savings up to 40% in some laundries! With that amount of saving up for grab, you will agree its got to be worth a chat with our business development team, who are factory trained on the functionality and performance of each and every laundry product we offer.
New Start Business ✓
Whether you're looking to re equipt or starting from scratch we can help.
For new businesses, it can be incredibly difficult to decide which commercial washing machine will best suit your needs. Of course, budget needs to be considered, but more importantly, is it the best machine for the job it is required to do, and will it last? It's not our ethos to get our clients to spend more than they want to, however, we do always recommend the best quality commercial washing or drying machine to ensure they don't need replacing too soon. Buying cheap equipment can result in the business owner having to replace them much sooner than they would like to, and end up spending even more money. Luckily, none of our industrial washing equipment could be called 'cheap', in the sense that it would break down, because we only supply top quality equipment, while still catering to all budgets. We are always happy to provide a free planning service and our sales team will work with new businesses, or existing clients, to find out exactly what type of items will be going in the washing and drying machines and how often they will be running.
Purchase, Lease or Rent ✓
Available to lease, rent, or buy outright, we'll provide you with the right equipment for the right application
We have the resources to provide a range of financial options to suit every type of project and customer lease finance, rental and business leasing. You can choose to purchase the equipment outright or you can consider a monthly payment plan by Leasing or Rent your machines. We treat every customer as an individual and our dedicated team will find the best possible solution for any budget however large or small.
Having worked in the commercial laundry business for many years, our customer service advisers are happy to help you plan out the design, layout, and types of equipment required for a new business venture. Our focus on outstanding customer service runs right through our entire business, so new industrial laundry businesses can rely on our knowledge and commitment to good service. We work with many different types of laundry services to help them plan out the best equipment and configuration for their needs. This can be anything from student accommodation, caravan parks, apartment blocks, shared housing or stable yards. We are specialists in every field, so can advise you on the best type of equipment for various different uses.
Customer Review ✫✫✫✫✫
"I've been dealing with M.A.G since 2003 starting out with no laundry experience what so ever"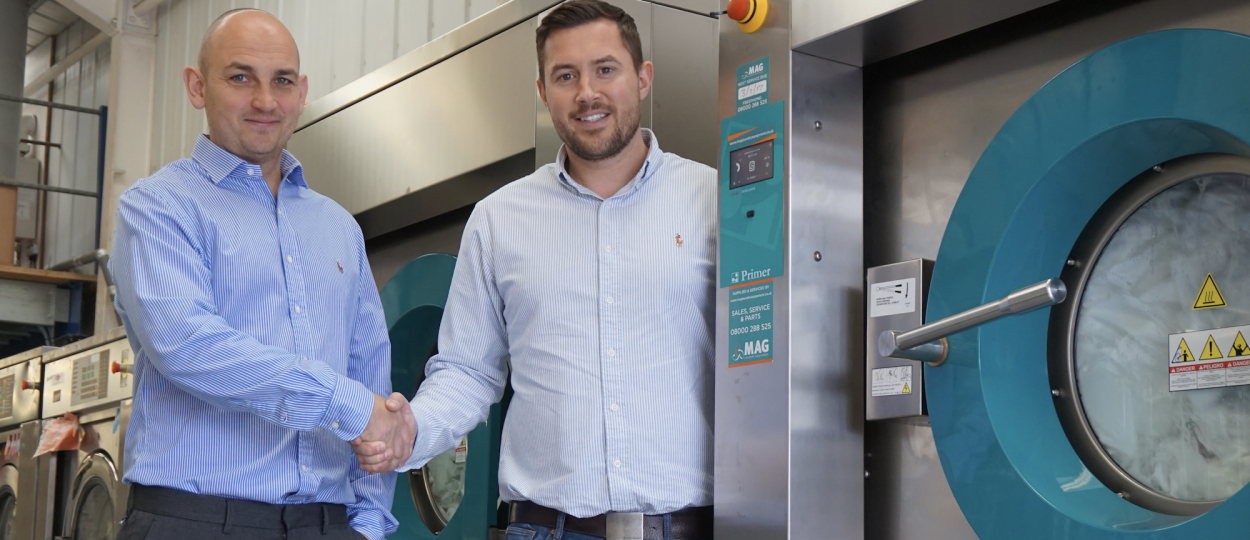 Today the laundry processes up to 500kg per hour that's 6 tonnes some days with around 22 staff operating 7 days a week. As you can imagine we rely on both the laundry equipment and service support supplied by mag to ensure we deliver to our clients on time. We've worked very closely over the years and I must say I've tried a few other laundry equipment suppliers but these guys really do go that extra mile every time. In the early days I started the business with second-hand machines and as the company developed I've replaced them with new energy-efficient ones, that really do make a difference by the way. When I was asked to give a testimonial I had no hesitation, MAG sales, service and spare parts departments are all great to deal with, and staff that really do understand the industry
PS, I'm more than happy to talk to anyone over the phone or at my laundry about mag laundry equipment and the services they offer.
Geoff Browne.
Impressed Laundry Manchester
Get your free laundry information pack below ✓