MAG Laundry Equipment Wins Machinery Distributor of The Year Award at LADAs 2023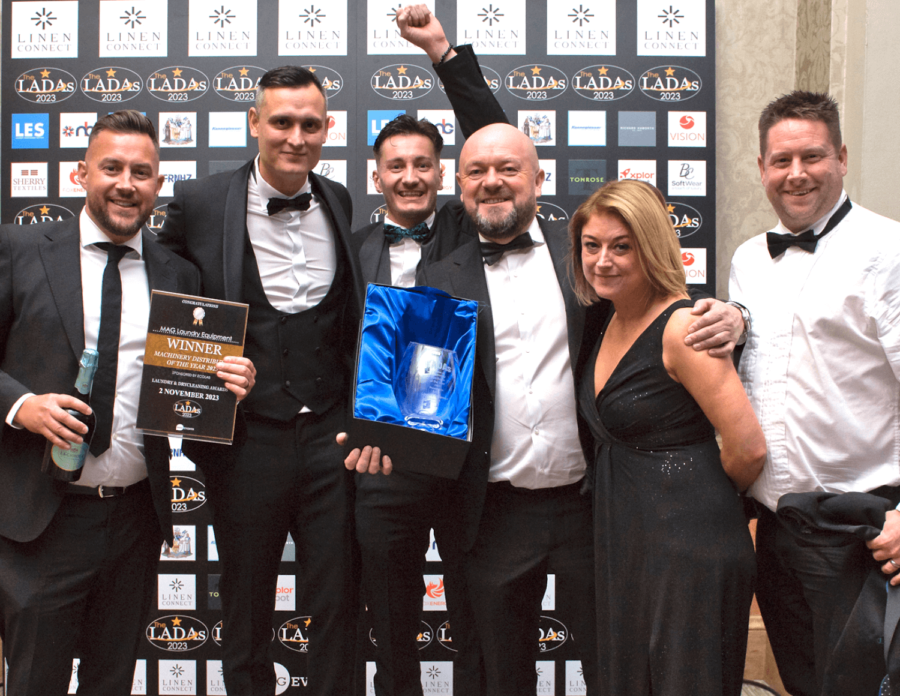 We are thrilled and honoured to announce that MAG Laundry Equipment has once again been awarded the prestigious Machinery Distributor of The Year Award at this year's Laundry and Drycleaning Awards (LADAs).
This recognition is a testament to the hard work and dedication of our entire team, and we are truly humbled by this remarkable achievement.
At MAG, we have always strived for excellence in providing high quality commercial laundry appliances to our valued customers. Winning the Machinery Distributor of The Year Award for the second time is a clear validation of our commitment to delivering exceptional quality and ensuring customer satisfaction.
We owe this success to our loyal customers, who have continuously supported us and trusted our products and services. Your unwavering faith in our brand has been our driving force, and we are deeply grateful for your continued patronage.
Our journey to success wouldn't have been possible without the incredible efforts of our dedicated employees at MAG. They have consistently gone above and beyond to ensure our company's success, and their relentless dedication and passion have truly set us apart in the industry. This award is a reflection of their hard work and unwavering commitment.
As we bask in the glory of this incredible award, we want to express our gratitude to everyone who has played a part in our journey. To our customers, employees, partners, and supporters, we extend our heartfelt thanks for being an integral part of MAG's success story.
We would also like to extend our congratulations to the worthy runner-ups, Washco and JLA. Your dedication and hard work in the laundry and drycleaning industry are commendable, and we are honoured to share this platform with you.
Looking ahead, we are more committed than ever to maintaining the highest standards of quality, innovation, and customer service. We are excited about the future and look forward to continuing to serve you, our valued customers, and exceeding your expectations.
Once again, thank you for this incredible Award. It inspires us to reach even greater heights, and we can't wait to see what the future holds for MAG Laundry Equipment.
Here's to another year of excellence and success 🌟!